No marriage will ever work without the couple's commitment to love, cherish, and value each other's individuality. So having someone with whom you can share your life, from your most kept secrets to your long-held aspirations is just priceless. You'll go on adventures together, be there for each other in times of success and failure, and laugh even when things are tough.
There's so much to look forward to each day with your husband by your side. But do you know which one is the most exciting?
Pregnancy!
While pregnancy often emphasizes motherhood, it isn't just a woman's path to take. It is also a time of great excitement and change for expectant dads. When you find out you were pregnant, you must have thought of spilling the tea to your husband right away. But save the excitement for a bigger surprise, because there are 'better' and 'unique' ways to tell him the good news.
Pregnancy Announcement Ideas for Him
Just imagine how memorable it will be for your husband if you try out these pregnancy announcement ideas we have listed down below. (Plus, don't forget to document this very moment because his reactions would surely be epic!)
1. Show or give him a custom onesie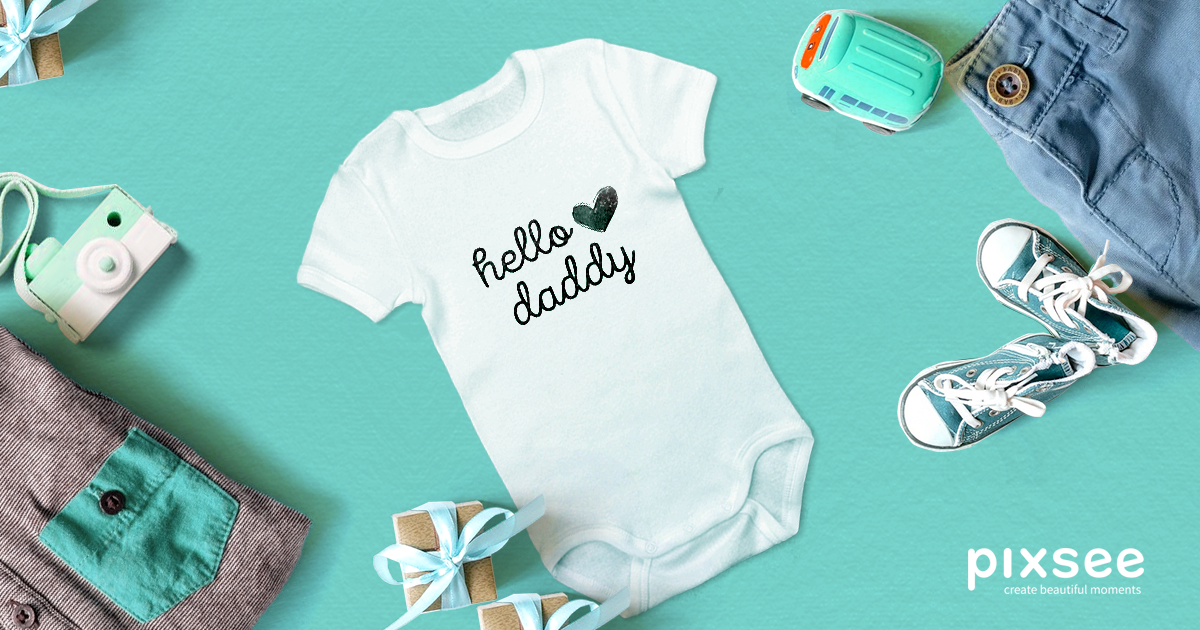 This one will be imprinted in his memory forever. The sight of a baby onesie is enough to melt his heart - what more if it's printed with a personalized message? You can send a simple message like "hey daddy, see you soon," or a silly one like "I listen to metal with my daddy." Whether he's a sports fan, a beer lover or an outdoor adventurer, you can create the most heartfelt message that will warm his heart.
Here are some ways to present this surprise:
Hang it on your clothesline so he can't miss it when he's going through your closet to get ready for the day's work.
While you're relaxing on your sofa or bed watching your favorite show, you can casually hand it to him and say, "Hey, I got you something!"
Placing it in a gift box is also a good idea because the gift box itself conveys the 'special surprise' vibe.
2. Gift wrap the pregnancy test
This is an excellent idea for announcing on special occasions such as Father's Day or his birthday, as well as during holidays such as Christmas or Thanksgiving. Wrap it up and give it as a gift, or hide it somewhere your partner will find it easily. You could put it next to his coffee mug, in the medicine cabinet where he keeps his razor, or somewhere near his phone. And the best part is...watch your husband open the box!
3. Set up a game night with him
If you want your husband to burst out laughing, but with tears at the end, you should definitely try this idea. You can either host a family game night at your house and invite other family members, or you can set up a game just for the two of you. You can play charades, scrabble, or Pictionary, or you can spell out the message on a board game. Imagine the joy on his face when he will finally figure out what the words on it mean!
4. Put the baby items in a pizza box
If pizza night is a thing for you and your husband, then all the more reason that you should consider this one. Expecting a large pizza box with green chili, pepperoni, and a lot of cheese, but instead opening a box containing tiny socks and mittens, gloves, and a onesie will leave him speechless for a second.
5. Enlist the help of your furry babies
Say, you didn't tell anyone yet that you're expecting, so asking for help from friends and family members is out of the question. But this isn't a problem if you have dogs or cats at home, as they can be very reliable too! You could have your pet wear a cute bandana or t-shirt with the words "you're going to be a daddy" on it.
6. Say it with coffee
Serve his morning coffee with a sweet touch by writing "I'm pregnant" on the bottom of the mug. When he's finished, he'll see the message you left in it, which will double the effect of the caffeine he just consumed.
7. Plan an outdoor activity that he likes
This is one idea you should not pass up, especially if he is the adventurous type, a thrill-seeker, or a nature lover. While you're resting from your hike or taking pictures of the lush greenery around you, you can give him a card with a sweet poem inside, or tape the pregnancy test inside the card. That's something he'll remember on future hiking trips.
8. Make dinner reservations at a fancy restaurant
We all know how romantic dinner dates can be and how they can rekindle the intimacy between a couple. So why not take this opportunity to the next level by pre-planning with the restaurant staff to help you in delivering the big surprise to him? You can request that the waiter slip an envelope beneath the bill, or that he delivers a gift to your husband while acting completely unaware. In either case, it's best to wait until he's finished eating because if you do it before then, he'll be too excited to eat.
9. Make the announcement through a pregnancy shirt
Sometimes, wearing a statement shirt speaks louder than you telling the news to him verbally. Whether at dinner or at your next family gathering, a pregnancy reveal shirt is suited for any type of occasion. You can simply do a quick search to find so many cute shirts that match your style, or you can have a customized t-shirt printed with baby palms and little feet.
10. Gift him with a baby book
Surprise him with a beautifully gift-wrapped baby book. Place it on a breakfast table alongside a cup of coffee and a handmade card. Wait to see his reaction as he flips through the pages. Such a book will be very useful to him in learning about your pregnancy and what to expect once the baby is born.
Sharing this news is just one of the many exciting milestones along your pregnancy journey. But doing it doesn't have to be picture-perfect because no matter how you do it, your husband will always be grateful that you are his better half, and for being the mother of his little one.
Once you've shared the big news and are planning out your little one's nursery, be sure to add pixsee to your list of baby-must haves!