It's easy to forget how tiny a newborn is until you're on your hands and knees hunting for a single, minuscule baby sock at 2:00 in the morning! New babies are precious, but parents need plenty of equally small accessories to care for them. If you don't take the time to organize your baby nursery before your little one arrives, you might find yourself becoming overwhelmed with clutter and chaos.
Organization begins with a thoughtful baby nursery design. With some forethought, you can incorporate organizational solutions into your aesthetically pleasing, carefully designed nursery. The key is discovering the stylish solutions that will make your life easier.
We've created this guide to help explain the ins and outs of maintaining an organized and cohesive space without sacrificing your dream nursery colors or themes. Read on to learn all about our favorite storage hacks for first-time parents.
Why You Shouldn't Overlook Organization
Welcoming a new baby can be joyful but overwhelming. Even before your little one arrives, your home will fill up with package after package of baby products. From shower gifts to daily necessities, expect to disappear under dozens upon dozens of strange doo-dads.
The process can be even more overwhelming when having your first baby. You haven't yet created systems to help you determine where products should go. What do you need easy access to, and what can you place on a high shelf for special occasions?
All that to say, caring for a new baby is a trial under fire, and 99% of it is resource management. You will learn as you go.
You might not have time to rearrange your nursery when you have a fussy baby in your arms. It's better to consider storage before you bring your bundle home.
Avoid the Design Trap
Don't spend hours fussing over nursery styles and then fail to incorporate storage. Your carefully curated space will quickly become a disorganized disaster zone. You deserve to enjoy the room you've curated.
Over time, you will learn what products you love and need, and your baby will grow into new products and sizes. As you gather more, the pile will only grow. The best way to prevent clutter is with thoughtfully chosen nursery furniture.
Now is the time to accept wisdom from experienced parents. Our best piece of advice is to create simple, intuitive storage solutions throughout your nursery to avoid falling prey to chaos. When you can find and access things you need daily, parenting is a breeze.
How to Organize Your Baby Nursery
Before you begin, remember to stay flexible. You will fall into patterns and routines once your baby arrives. If a solution is no longer practical, find a way to switch it up to prioritize access to the items you need regularly.
Create Distinct Spaces
Your baby's room might be small, but it's helpful to break the space into distinct "areas." Each one should have a dedicated purpose. Place materials you need for that purpose in that location so that everything will have a home.
Areas in your nursery might include:
A dedicated space for sleep

A nursing area

A play area

A space to store clothing
Dividing the room this way makes it easier to accomplish tasks, and ensures that each area has its own organizational system. For example, you might store linens and sleep sacks in labeled bins below your baby's crib. Your changing area might include a caddy that you can restock as supplies become depleted.
Label Everything
You can improve any system by making it accessible at a glance. With that in mind, don't underestimate the value of a label maker. You can use labels on drawers, shelves, bins, and even wall hooks.
Embrace Storage Bins
Bins are the simple solution to your design woes. Geometric units can fit nicely into a minimalist or natural design aesthetic. From hemp baskets to colorful fabric cubes, find a storage solution that matches and compliments your style.
When you see bins instead of clutter, you will feel less frazzled.
You can also place bins under other furniture or on closet shelves. Place small bins or dividers inside dresser drawers to ensure everything has a designated spot.
Use Your Vertical Space
Don't forget to use your walls! You can create more storage by choosing tall shelves that utilize all your wall space. You can also install hooks and clothing rods to add extra storage without cluttering drawers or closets.
Instead of using countertops to display art and photos, frame them and hang them on the wall. This solution will free up your horizontal spaces for easily accessible storage solutions like caddies.
Roll Supplies Out of Sight
You can keep consumable supplies on a small rolling cart with its own organization system. Keep clunky packages out of sight and restock your supply as needed. You can store the cart in a corner or closet and roll it over when it's time for nursing, changing, or another task.
Carts are also helpful if you occasionally nurse or change your baby in another room. Roll the cart over, and you'll have everything you need in one place. When you transition back to the nursery, you can easily roll it back.
Organize Your Memories With pixsee
A little forethought can go a long way once your sweet new baby arrives. When you take the time to organize your baby nursery, you'll be able to create systems that make your everyday parenting tasks a breeze. Plus, there's no reason why organization and baby nursery design can't go hand-in-hand.
If you love well-made design, introduce your little one to the playful chic pixsee smart video baby monitor. The award-winning pixsee app will help you organize your memories and easily share them with your loved ones. Visit our online store to discover how pixsee can help you keep track of every milestone, big or small.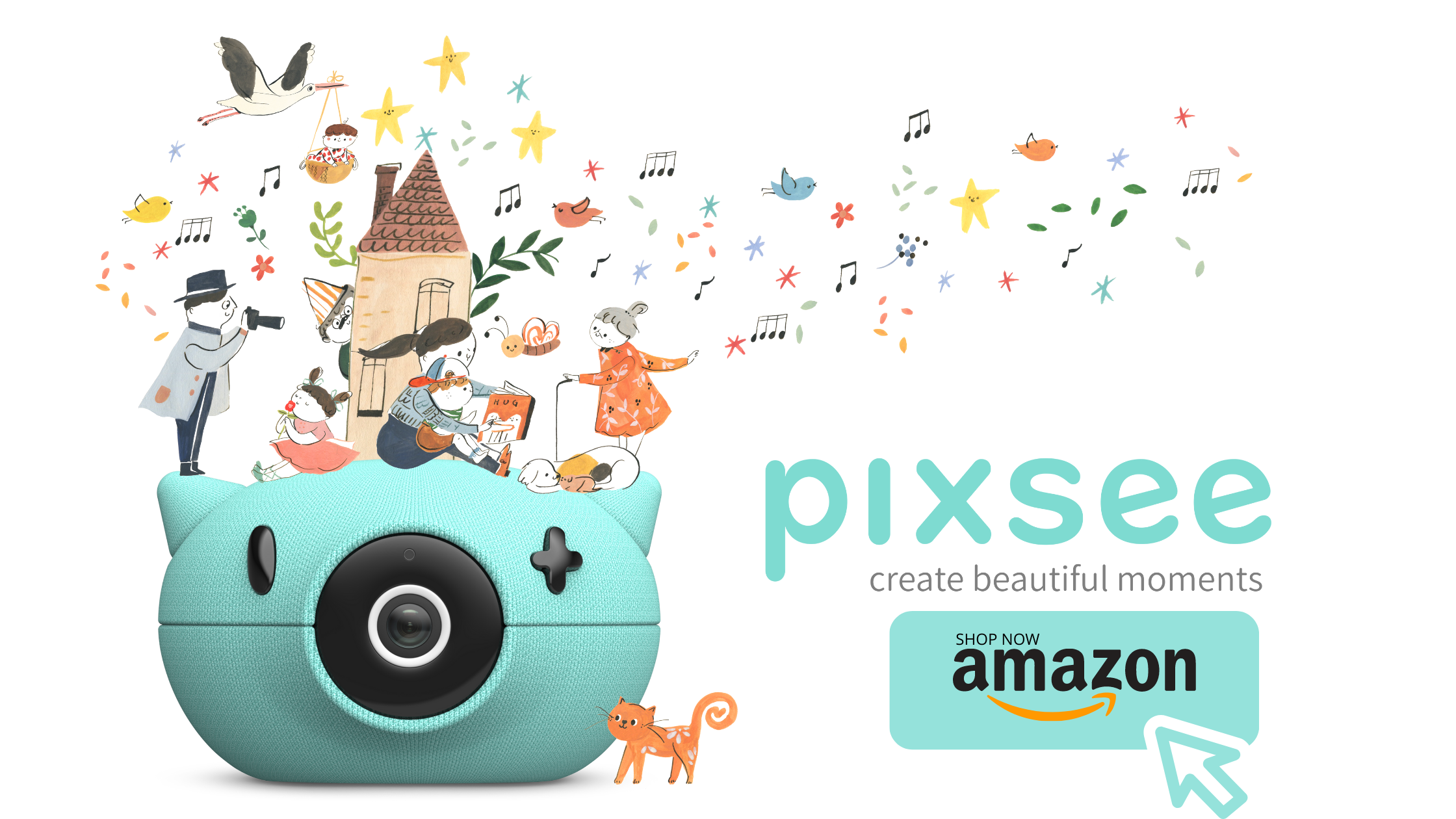 Great video quality and cute design
I bought this for a friend's baby shower. I wanted something useful and at the same time cute, so I bumped into this baby camera. My friend loves it! It goes nicely with the baby's room (doesn't look out of place like other cameras do) and the video quality is great; it doubles down as a real "candid" camera. We already have a bunch of very cute pics of the baby! Highly recommended!
Read more
Excellent features
We really like this monitor. It has excellent features (cry detection, face covering detection, temp/humidity gauges). It has been a great addition to our nursery. And also, there are a lot of sound choices. I think I will use it as an ambient sound player in the future when my baby grows up.
Read more
Great baby monitor that takes pictures for you and plays soothing music
The Pixsee is a great baby cam that is automatically taking pictures and creating memories.A feature that surprised me was the cry detection.Not only do I get a notification to my phone but after our baby started crying the Pixsee played soothing music and the crying stopped and she fell back to sleep.
Read more