As winter comes to an end, the first green buds of spring begin peeking out from the soil, ready to blossom into flowers in time for your sweet baby's arrival. The world will soon fill with stunning blooms, busy bees, playful bunnies, and plenty of cheerful sunshine. It's the perfect moment to brush up on spring baby shower ideas!
This season is about welcoming new life, so it's ripe with ideas for unique baby shower themes. Whether you're expecting a little one or planning a party for someone else, there's no shortage of inspiration during this incredible time of year. Look out a window—you might spot a spring-inspired theme in the wild.
We've created this guide to our favorite party themes inspired by springtime colors and the natural world. We've included something for every interest and aesthetic. Read on to get the party started before the baby bunny arrives.
Look What April Showers Are Bringing
April showers bring May flowers—and if you're ready to pop, a sweet, Springtime baby! This rainy day motif full of fluffy clouds, cheerful umbrellas, and jolly rainboots is the perfect match for your spring baby sprinkle. It's an ideal party aesthetic for a space where you can hang decor from the ceiling, ranging from chubby cloud balloon clusters to dangling vertical raindrop garlands.
Instead of cards, encourage guests to gift "a book for a rainy day." Everyone will bring their favorite picture book to share with your precious baby, and you'll have an instant collection of rainy day reads. Have guests write a note for the baby on the inside cover, then display them on a table or shelf to effortlessly add to the party decor.
EGG-cited Theme
One of our favorite spring baby shower themes for moms welcoming babies around Eastertime is an egg-and-bunny aesthetic. It's a sweet and engaging theme for an outdoor "garden party." Decorate with a gorgeous egg-inspired balloon arch, fill your dessert table with precious bunny peeps, and deck the space with airy pastels for a cohesive look.
You can use inexpensive plastic Easter eggs to create a shower game that playful guests adore. Fill your eggs with jellybeans, candy, and treats, plus add a plastic charm like a pacifier, baby bottle, or mini stroller. Only one egg will contain a plastic baby, and the guest who finds it will win a prize.
Floral Theme
A floral theme makes for a beautiful spring baby shower filled with spring bouquets, brilliant color, and plenty of treats that resemble your favorite growing things. Many moms love having a "flower wall" covered in colorful blooms, which is the perfect backdrop for selfies, Insta photos, and precious shower memories. The mom-to-be can wear a flower crown, or you can provide one for all of your guests to create magical pictures.
At this party, aesthetics are everything, so prioritize gorgeous centerpieces and a lovely location. Your mom-to-be might enjoy an afternoon tea served on tiered trays. If you use china teacups, they make perfect party favors.
Sunshine Theme
After those rainy April showers, the sun will shine on you and your sweet baby. Skip to the good part by planning a baby shower with a stunning spring sunshine theme. Decorate using bright shades of eye-catching yellow, which looks great with pops of aqua or hot pink (so you can effortlessly incorporate the baby's gender).
Fill your dessert spread with sunny treats like celestial yellow cake pops, lemonade, tart lemon macarons, and sunflower-topped cupcakes. Guests will enjoy playing baby shower Bingo using sunny pom poms as markers. It's the perfect activity to keep guests busy while mom opens her gifts.
Mother-to-BEE Theme
If you're a mom-to-bee welcoming a little honey in the springtime, try a spring-inspired baby shower with a baby bumblebee theme. Guests adore this yellow-and-black aesthetic, loaded with flowers, honeycomb, and adorable bee imagery. Your sweet dessert table is sure to be the star when you fill it with nature-inspired treats with flavors like honey, lavender, spring lemon, and licorice.
Once your guests settle in, why not keep them busy as bees with a pacifier hunt? Hide a collection of colorful pacifiers throughout your venue and task attendees with hunting down as many as possible. The busiest bee can take home a beeautiful prize.
Sweet Pea Theme
Spring is a time for growing things, and if you're cultivating a sweet pea, you might choose to celebrate with a darling vegetable garden theme. Fill your space with verdant green details, precious polka dots, paper lanterns, and a peapod-inspired balloon garland. Deck the area with classy Parisian decor that evokes a gorgeous garden in Normandy.
Fill a series of glass canisters with round green candies, from gumballs to M&M's, and allow guests to help themselves to the harvest as they curate their own favor bags. Guests will enjoy playing "diaper pong" with ping-pong balls that match the round, pea-inspired aesthetic. The mom-to-be can keep the diapers at the end.
Spring Baby Shower Ideas for Every Mom-To-Be
Whether your mom-to-be craves a romantic floral theme or prefers something cute, like a bumblebee bash, there is a darling shower theme that will satisfy her. Use these spring baby shower ideas as a starting point as you curate and customize the ultimate welcome party. The perfect shower is full of tiny, thoughtful details, so get started today.
In the meantime, don't forget to add the Pixsee smart baby monitor to your shower registry. When your baby grows up with Pixsee, you'll never miss a moment.
Visit our Amazon online store and Pixsee Shop to learn why Pixsee is the perfect companion for your baby's growth journey.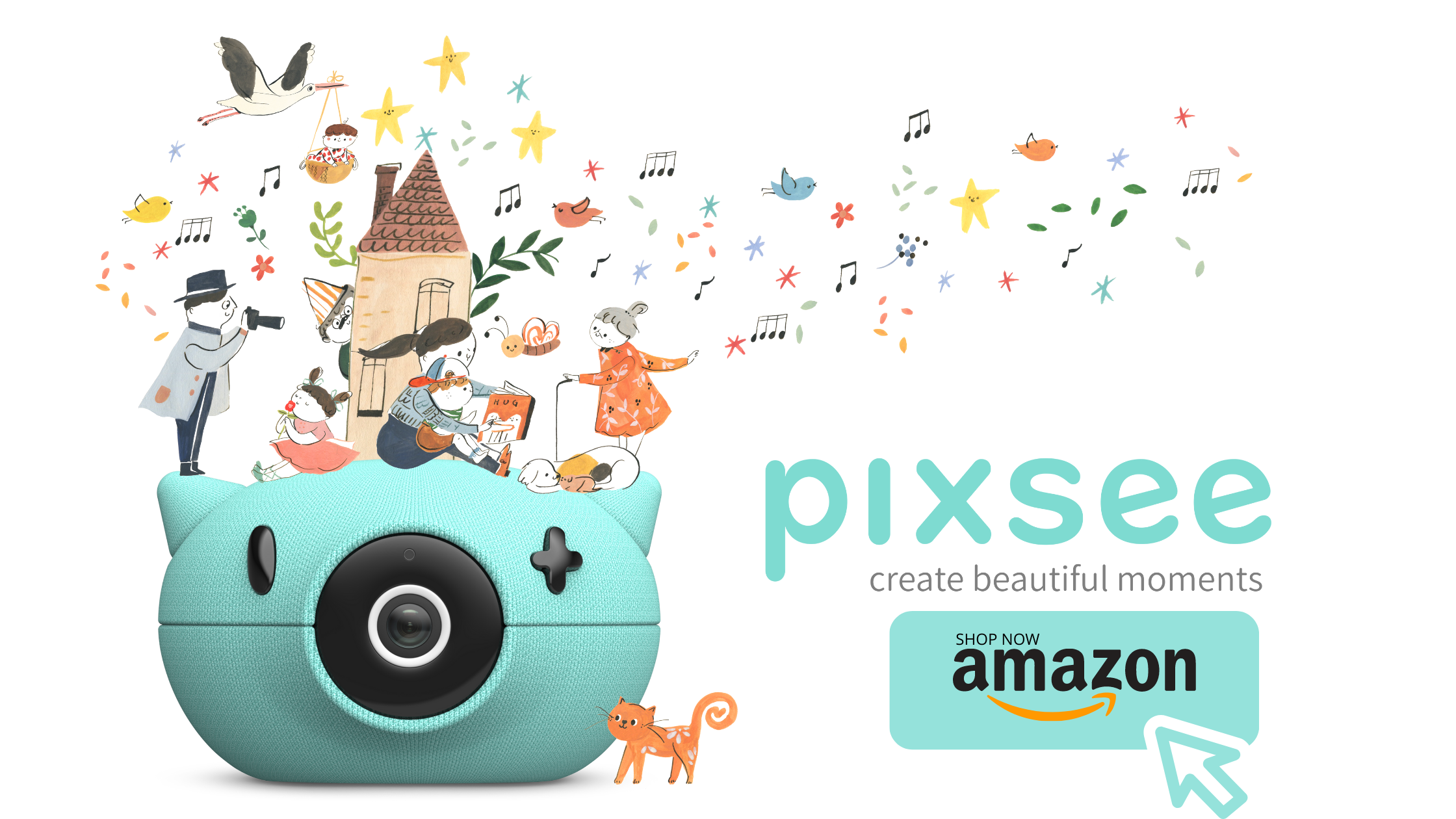 It just works - happy mom
The camera works great. It's easy to use and let's me see what's going on in the kids room.Happy mom.
Read more
Great video quality and cute design
I bought this for a friend's baby shower. I wanted something useful and at the same time cute, so I bumped into this baby camera. My friend loves it! It goes nicely with the baby's room (doesn't look out of place like other cameras do) and the video quality is great; it doubles down as a real "candid" camera. We already have a bunch of very cute pics of the baby! Highly recommended!
Read more
Excellent features
We really like this monitor. It has excellent features (cry detection, face covering detection, temp/humidity gauges). It has been a great addition to our nursery. And also, there are a lot of sound choices. I think I will use it as an ambient sound player in the future when my baby grows up.
Read more