Think about the last time you experienced dense, oppressive humidity. Did it impact your mood and comfort level? Did it make you feel sluggish, agitated, or grumpy?
Likewise, too little humidity has the power to dry you right out. It can make it difficult to concentrate, even on simple, everyday tasks. If something as simple as moisture can impact a grown adult, imagine what it can do to a baby.
Experts agree that there is an ideal humidity for a baby room. Do you know what it is?
We've created this guide to help teach new parents the ins and outs of monitoring humidity levels in the nursery. We'll explain how humidity can impact your baby's health and provide tips to help keep your sweet little one comfortable all year long.
Read on to discover the perfect humidity level for babies.
What Is the Ideal Humidity for a Baby Room?
According to a report by the United States Environmental Protection Agency, the ideal humidity level for a baby's room is between 30% and 50%. It should never exceed 60%. These are the guidelines for all indoor spaces, whether occupied by adults or children.
How do you know when your home's humidity levels are above or below the recommended percentages? The key is to monitor your humidity levels using a hygrometer. Some specialized devices, such as the pixsee smart baby camera, include a hygrometer in their design.
How to Adjust Humidity in Your Home
It isn't difficult to adjust the humidity level in your home. If the humidity level drops below 30%, use a humidifier to add moisture to the air. If the humidity exceeds 50%, use a dehumidifier to remove it.
Choosing a Humidifier
There are five common types of humidifiers available for sale:
Cool mist humidifiers
Warm mist humidifiers
Ultrasonic humidifiers
Evaporative humidifiers
Vaporizers
A cool mist humidifier is ideal for use in warmer temperatures. It allows you to add humidity without impacting the overall baby room temperature. Conversely, a warm mist humidifier is best for cold climates but can be dangerous around little ones.
An ultrasonic humidifier can switch between producing hot and cold mist. These devices are very quiet, which can be appealing for new parents! The heating element means some parents may choose the noisier option in exchange for peace of mind.
Evaporative humidifiers are great humidifiers for babies. They don't generate heat, making them safer overall. Many are self-regulating, eliminating the need to monitor your humidity situation with regularity.
Likewise, vaporizers are high-tech but pose the same burn risk as other warm mist devices.
Choosing a Dehumidifier
While humidifiers add moisture to the air using water from a reservoir, a dehumidifier removes and collects it.
There are two common types of dehumidifiers available:
Heat pump dehumidifiers
Dehumidifying ventilators
A heat pump dehumidifier works by drawing moist air into the humidifier. Once inside, it's cooled by ultra cold coils. The cold water collects in a reservoir, which you should empty regularly.
A heat pump dehumidifier is small and can often fit on a tabletop. These devices sometimes produce a small amount of white noise. These are the ideal solution for a baby's room.
A ventilation dehumidifier works with your home's extant ventilation system. If you live in a humid environment, you may already have one installed.
In many climates, a dehumidifier might not be necessary. You are far more likely to have to add moisture than remove it. If you do live in a warm, moist region, a quality dehumidifier can improve your baby's health and happiness.
How Can Humidity Impact Your Baby?
When humidity is high, it creates an ideal environment for plenty of things to grow—but not your little one! Excess moisture breeds mold and fungus and allows dust mites to flourish. Even if your baby does not suffer from allergies, prolonged exposure can lead to health complications.
Furthermore, high humidity can impact your baby's sleep. It can cause restlessness and sleep disturbances that keep the whole family awake. A baby who sleeps poorly misses out on an opportunity for growth and cell repair.
Likewise, dry air can lead to uncomfortable consequences. The air tends to dry out during the period when we're most likely to crank our heaters. This extreme lack of moisture can dry out skin, irritate nasal and throat passages, and cause sinus discomfort.
Again, all of this discomfort leads to poor sleep. As your baby grows, they need as much quality sleep as possible! Infancy is a critical period for both brain and body development, and so much change happens while your little one slumbers.
Other Considerations
Remember that humidifiers are just as capable of growing mold, bacteria, and fungus as your walls. If you use your device often, clean it just as regularly. You don't want your sweet baby to breathe in that mold when you're working so hard to keep them safe and healthy.
Always place a humidifier or dehumidifier at least six feet away from your child. If possible, anchor the device to the tabletop or wall. Even small devices can injure a child if they fall.
Do not use the warm mist setting in your baby's room. The warm coils pose a burn hazard, and it is not worth the risk! Be sure to secure any cords so your baby can't reach or tug on them.
Keep Baby Comfortable With pixsee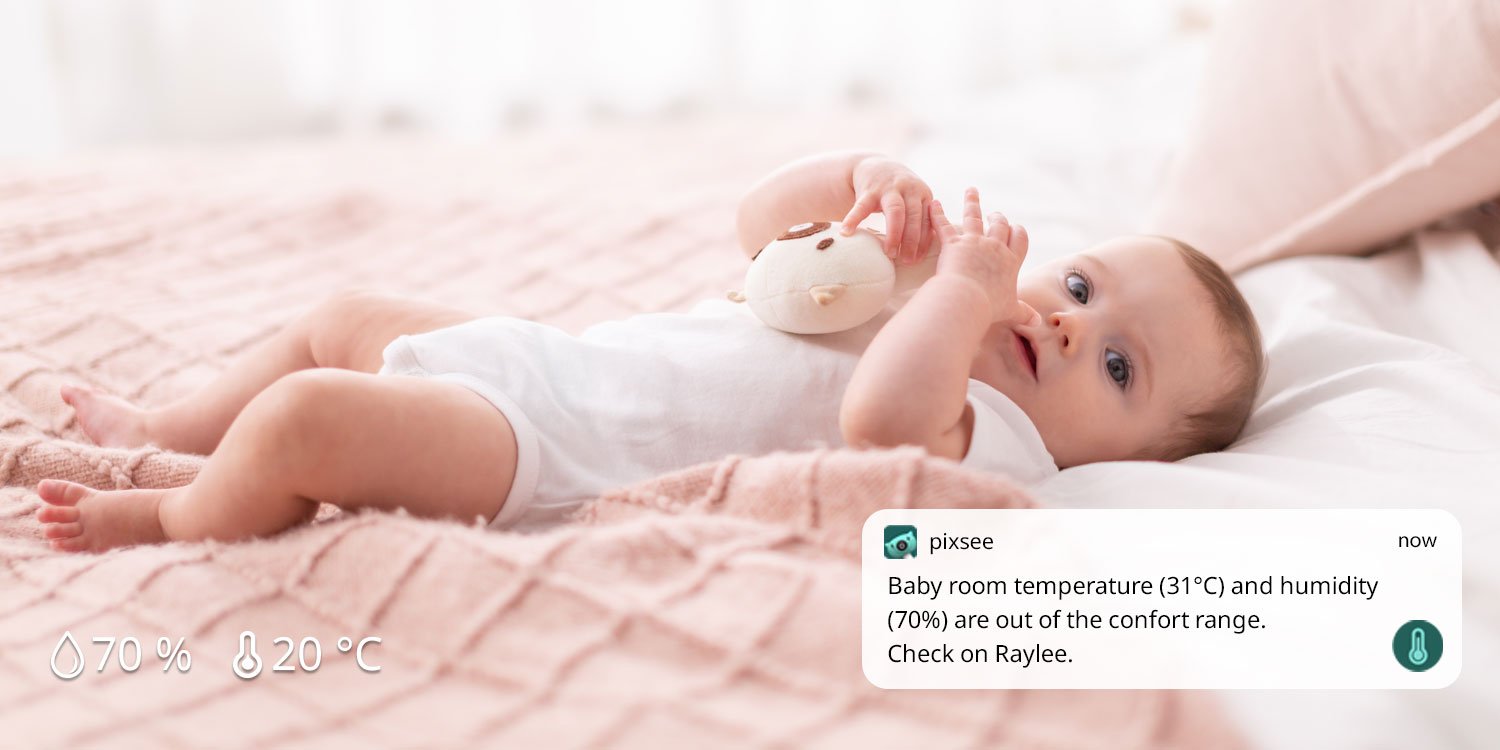 A comfortable baby is a happy baby. Understanding the effects of humidity on your baby's health can help you maintain an ideal sleeping environment. Good sleep means more opportunities for your sweet baby to grow and develop.
Your pixsee smart baby camera will notify you when you've achieved the ideal humidity for a baby room. The award-winning pixsee app alerts you when the humidity level changes, so there will never be any surprises. Visit our online store to find out the other ways that pixsee can keep your sweet baby safe.