If you're a new parent navigating your first year with a sweet new baby, we bet that you're constantly on th hunt for new bedtime stories. Even so, there is no fairy tale sweeter than the promise of getting a full night of sleep with a little one at home!
You might have noticed your baby's afternoon nap getting shorter and shorter. There is a good chance that they are about to enter another exciting, delicate stage of baby sleep development. There are a lot of changes coming between 6 and 9 months.
While newborn infant sleep follows a pretty standard trajectory, your baby's unique personality and temperament may come into play around their half-birthday. Part of your job as a new parent is to be observant and respectful as you guide your baby toward independence.
We've put together this guide to help support you as you navigate the nuances of sleep training your 6 to 9-month-old baby. Keep reading to learn how your pixsee smart baby monitor can help everyone get some safe shut-eye!
Sleep Patterns at Nine Months: What's New?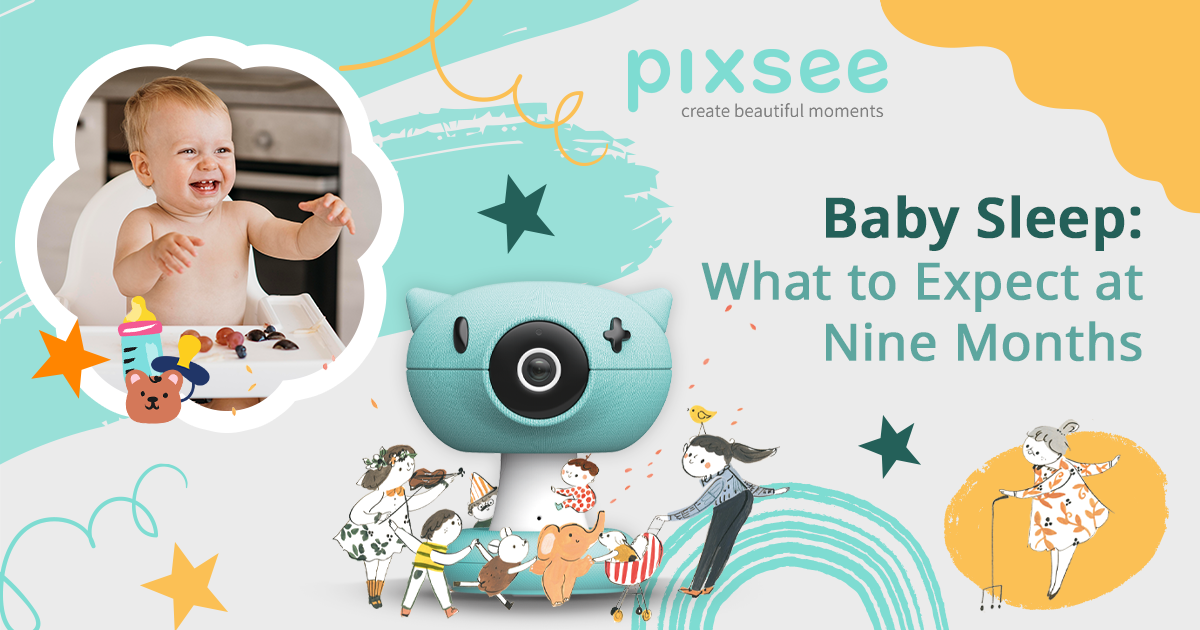 All humans naturally wake up a few times during the night, babies included. Over time, we all learn to put ourselves right back to sleep. You may have gotten so good at this skill that you don't even remember rousing at all.
By six months of age, no two babies' sleeping patterns look quite the same! They will depend a lot on your baby's unique ability to self-soothe or self-settle during these wakeful periods.
Babies who have mastered these tricky sleep skills may already be sleeping for up to eight hours at a time. Babies who have a little bit more trouble may still need help settling, even though they aren't hungry or wet.
Exciting Developments in Infant Development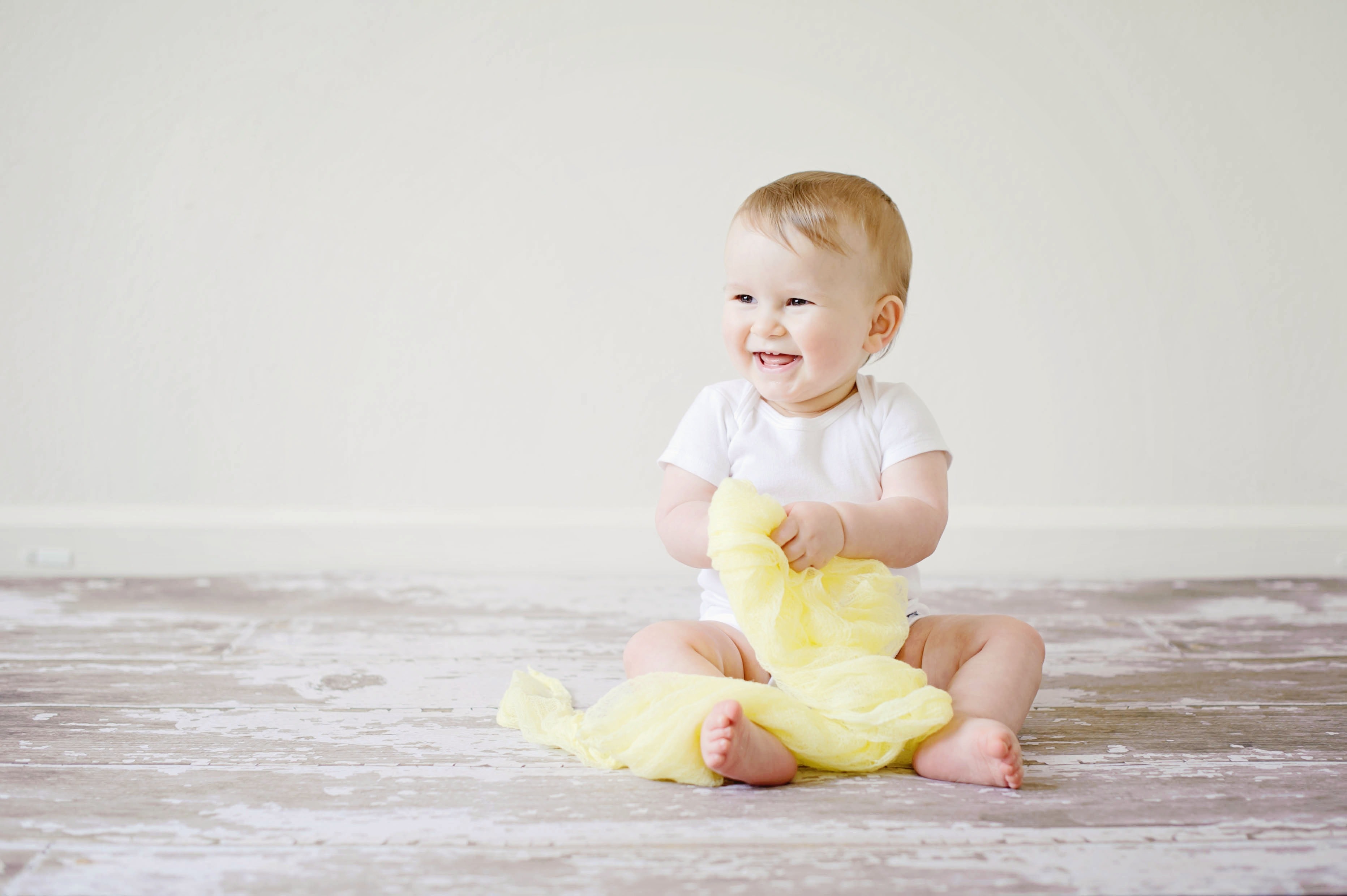 Beyond sleep skills, your sweet baby will also be growing and changing in other amazing ways. This time is ripe for some of the most exciting developmental milestones. During the day, your pixsee smart baby camera might be capturing your baby as they crawl, cruise, or even take a few tentative first steps!
Some of the most thrilling changes won't be happening in your baby's body, but in their growing brains. At around eight months of age, your baby may begin to develop object permanence.
Imagine a simple game of hide-and-go-seek with a favorite toy. Before eight months, if you hide the toy, your baby will forget that it was ever there! At eight months, however, they will remember that toy, and they may not like that they can't see it anymore.
The same is true for people. As a result of these big changes, your little one might begin to develop separation anxiety. While this may mean big changes at bedtime, it's also encouraging for new parents - it means your baby loves you and misses you.
One of the biggest changes of all will affect your baby's precious, gummy grin. Teething may cause discomfort that can lead to sleep disturbances, even in the best little self-soothers. Be patient, and trust that if your baby is waking during the night during this stage of their development, there is probably a very good reason.
Here are some of the other milestones you can look forward to at 9 months:
Lifting up their arms to be picked up
Banging two objects together
Sitting without support
Moving objects from one hand to the other
Making a variety of facial expressions
Looking up when you call their name
Enjoying a game of peek-a-boo
New parents love this stage because this is when they really get to know their precious baby's personality. Luckily, you'll be able to capture all of their new expressions and milestones with your pixsee smart baby monitor!
How Much Sleep Does My Baby Need?
Surely, with all of that moving and shaking your little one is going to get good and sleepy. When you look back at the footage on your pixsee smart baby monitor, you'll have crystal clear memories to prove it! Even so, as babies age, they need less sleep, not more.
According to the CDC, your 6 to 9-month-old baby should be sleeping anywhere between 12 and 16 hours each day. This includes both daytime naps and nighttime sleep. Because development is so rapid during this stage, there is a lot of variation, so no two little ones will follow the same baby sleep schedule.
On average, babies this age will shift from three naps per day down to two. Your baby probably won't nap for much longer than two hours at a time. When your child takes those naps will depend on your family's unique daily routine.
As your baby approaches 9 months of age, they may even begin napping only once per day. After all, they have so much moving and exploring to do. Why wouldn't they use that valuable time to practice all of their brand-new physical skills?
Safe Baby Sleep at Nine Months
By nine months, you probably have a crawler on your hands, if not a walker. Suddenly, your baby's crib is no longer a place of rest, but a jungle gym. It's very common for your little one to think of bedtime or nap time as the perfect opportunity to practice sitting up or rolling over.
This means that your baby's safety is more important than ever. Your pixsee smart baby monitor will offer you peace of mind with industry-leading privacy protection. Think of your pixsee smart baby camera as a trusted parenting companion that will send you alerts when your baby is using naptime to train for the Olympics!
The pixsee smart baby monitor is also key for parents who want to try sleep training. The ability to self-soothe is a skill like any other, and it's one of the first ways that your sweet baby will begin to show true independence. Being able to supervise and support your baby from a distance might be key to helping your baby successfully sleep through the night.
Your smart cam's area detection, cry detection, advanced environmental monitoring and covered face detection features will ensure that your active baby slumbers soundly all night long. The monitor's voice recorder and two-way talk features can help support your little one as you both navigate separation anxiety.
Master Baby Sleep at 9 Months With pixsee

A full night of safe, restful baby sleep does not have to be a fairy tale! With your pixsee smart baby monitor, you can support your active, developing baby as they learn to self-settle. You'll all need a good night's rest after a day spent following your little one as they have new, stimulating adventures!
Your pixsee smart baby camera will help ensure that you don't miss a second of your baby's most active, exciting stage of development. It will be the perfect companion for your baby's growth journey. Buy yours online today and you'll be sleeping easier in no time!