You've just discovered that you're pregnant, and it's time to make some changes. Should you start by babyproofing the house, painting the bedroom, or shopping for a new maternity wardrobe?
Slow down, mama! Stop focusing on what's on the outside and consider what you're putting into your body. Making wise nutritional choices is the first step toward welcoming a happy, healthy little one into your world.
We've created this pregnancy nutrition guide to help make this transition easy and delicious. We've included details about pregnancy nutrition, what to eat, what to avoid, and how to handle the weight gain. When you finish reading, you'll be ready to make a diet plan that will keep you and your sweet baby healthy and full of energy.
Read on to explore the delicious truth about nutrition for pregnancy.
Nutrition Comes First
Nervous moms-to-be are eager to understand what to eat to ensure their sweet baby gets what they need. Some women eat everything they see to make sure they're consuming enough for two. The most significant element of a pregnancy diet isn't quantity, however.
The key is robust nutrition, including plenty of the essential nutrients your baby needs to thrive.
The nutrients to prioritize during pregnancy include: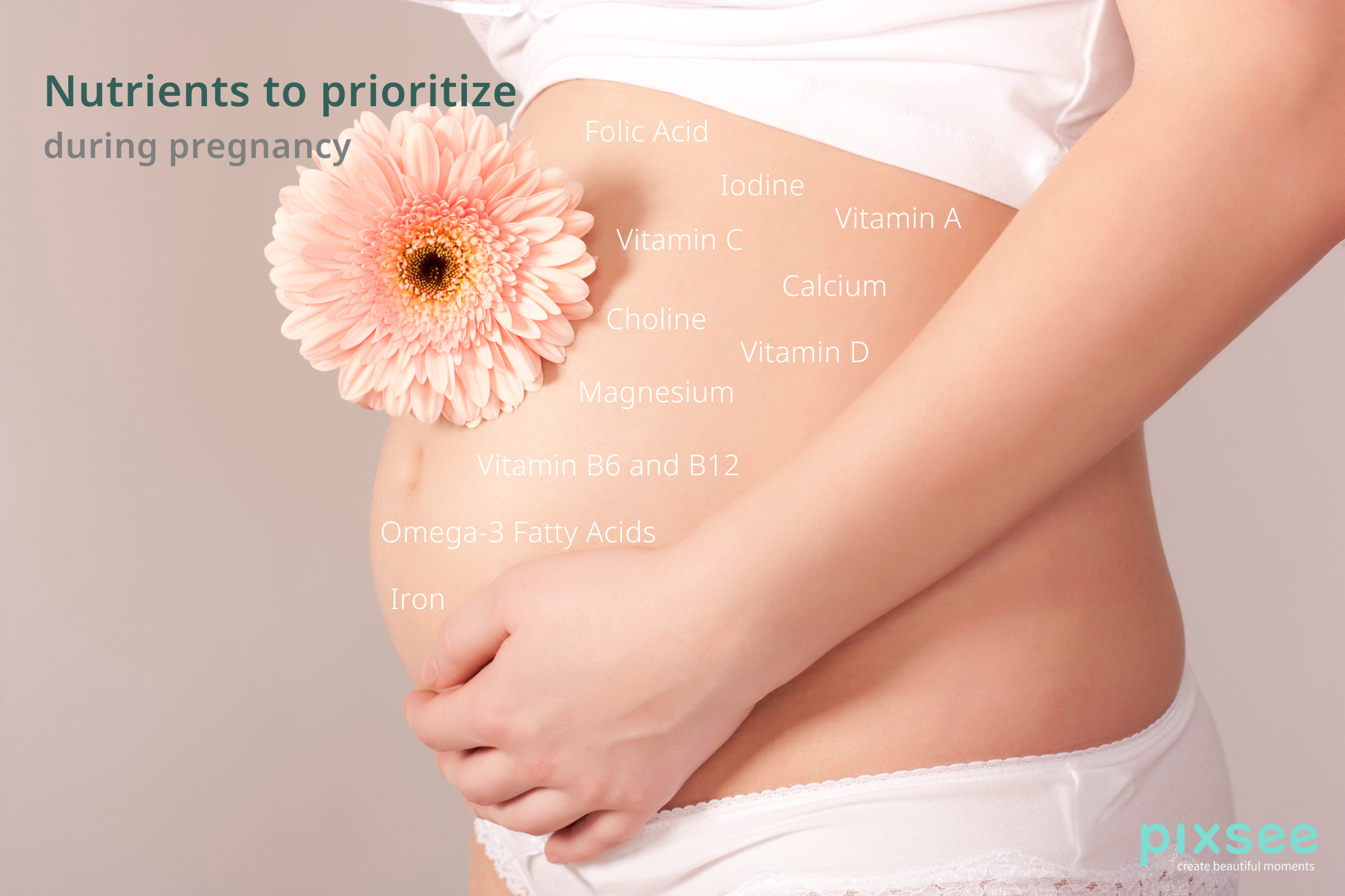 Folic acid
Iron
Choline
Calcium
Omega-3 Fatty Acids
Vitamin D
Vitamin A
Vitamin C
Vitamin B6 and B12
Iodine
Magnesium
You might recognize many of these nutrients from your bottle of prenatal pregnancy vitamins. While vitamins can help you meet the daily recommendations for each nutrient, you'll need to supplement with healthy whole foods. In the case of iodine, you may need to go out of your way to find healthy sources.
Growing an entire human can take a lot out of a person. Good nutrition ensures you have enough energy to support your physical needs while your body diverts resources to your sweet baby. It can prevent illness and fatigue so you can actively prepare for your little one.
Furthermore, these nutrients are building blocks that can help you construct a human being out of nothing. Nutrients like folate and choline help your body to develop your baby's neural tube, which eventually becomes the brain. What you eat can impact your baby's intellect, curiosity, and personality for life!
Foods to Prioritize During Pregnancy
Once you're aware of the nutrients you need, take time to determine what to eat when pregnant. While a varied, colorful diet should meet most of your needs, some foods pack a heartier nutritional punch than others. We call these "superfoods" and encourage you to include as many as possible in your daily food rotation.
These superfoods include:
Salmon and other low-mercury fatty fishes
Lean meats like beef, chicken, turkey, and pork
Leafy, dark green vegetables
Eggs (especially the yolks)
Whole-Grains
Cow's milk, Cheese, and Yogurt
Avocados
Berries
Bananas
Beans and other legumes
Nuts and seeds
Cottage cheese (for iodine)
Oils
One of our best diet tips is to eat the rainbow. The more colors you have on your plate, the more sure you can be that you're consuming a wide and varied range of essential nutrients.
As a rule, eat lean meats about twice a week for optimal iron absorption. If you're a vegetarian, lactose intolerant, or have other dietary restrictions, speak to your doctor about supplements and ways to ensure you eat a balanced diet.
When in doubt, iodized salt is an easy, flavorful source of iodine.
Foods to Avoid During Pregnancy
While some foods, like liver pâté, might seem like they'll meet multiple nutritional needs, not every food is safe during pregnancy. In the case of pâté, you're eating organ meat, which contains excess Vitamin A. Too much vitamin A during pregnancy can cause liver damage or negatively impact your baby's development.
Other foods can be dangerous because they attract parasites and bacteria like E. coli, listeria, Salmonella, and toxoplasma. Foods with too much mercury (like some types of fish) are toxic and may cause developmental defects.
Here is a list of foods to avoid to keep you and your baby safe: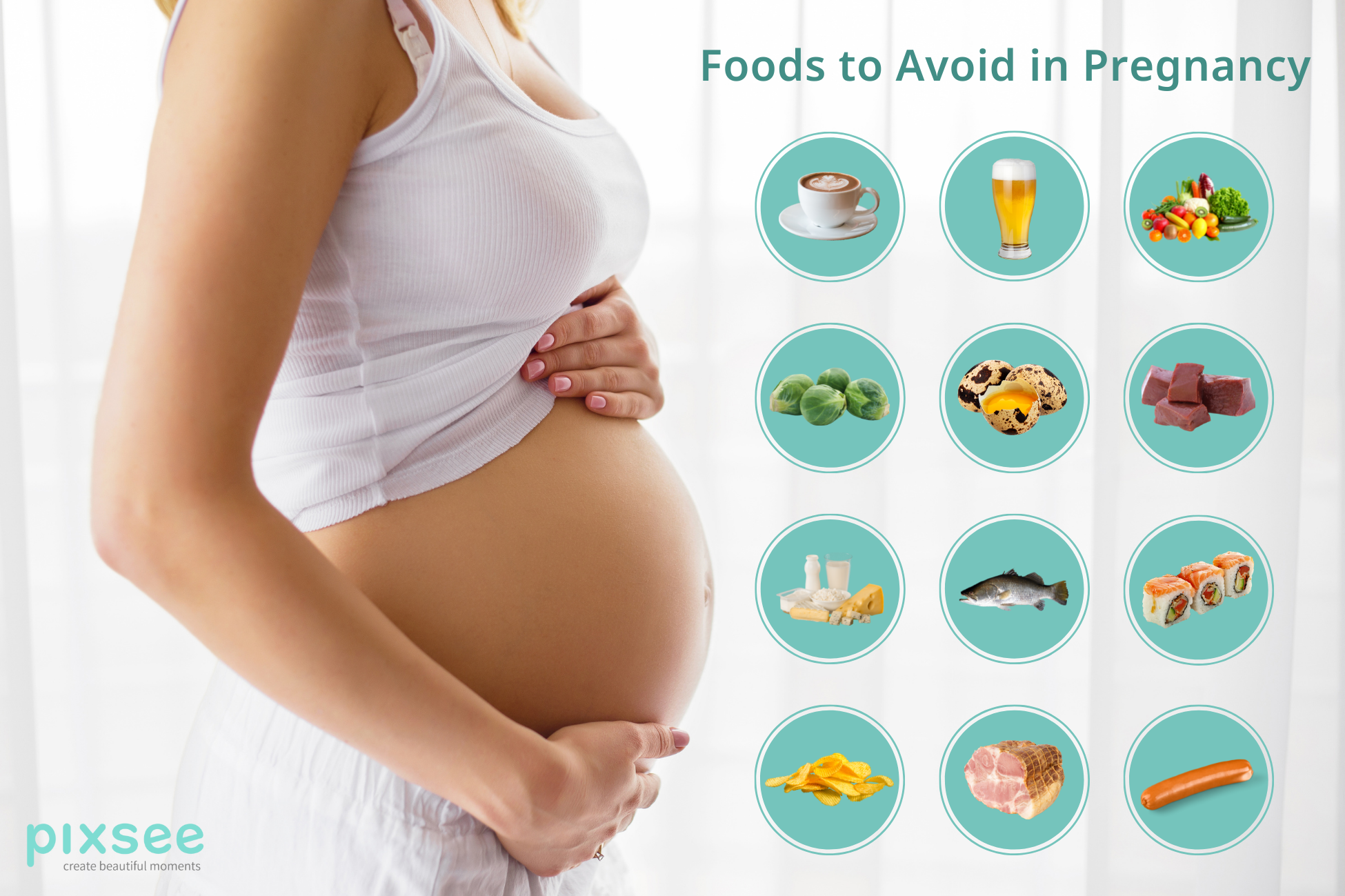 Caffeine
Alcohol
Unwashed produce
Raw sprouts
Raw egg
Organ meat
Unpasteurized dairy products
Fish with high mercury content
Sushi containing raw fish
Processed junk food
Lunch meat
Hot dogs
We realize these changes might require an adjustment. Skipping that morning cup of coffee can be particularly painful for many expecting mothers! As always, consult your doctor if you have any questions about what you put in your body during pregnancy.
Understanding Pregnancy Weight Gain
A healthy pregnancy almost always involves gaining some weight. It's a good sign. It means you're making robust nutrition a priority!
Dieticians recommend slowly increasing your daily intake during your pregnancy. Instead of simply boosting calories, focus on adding more nutrition to your food.
Why do you gain weight while carrying a baby? Your body naturally stores any calories you consume above the amount you need to function. As you steadily add calories to support your baby, your body will respond by adding weight.
You don't need to eat any additional calories during the first trimester. During the second trimester, you can add about 340 calories throughout the day. By your third trimester, you'll need 450 calories above your typical intake.
Remember that every pregnant woman is unique, and your physiology factors into weight gain. Hormones also play a role. Communicate with your doctor, and don't be shy about working with a nutritionist to create a healthy meal plan to keep you on track.
The Pregnancy Nutrition Guide for Thoughtful Moms-To-Be
It's shocking how quickly your priorities shift when your choices impact a tiny human being! Thoughtful, healthy dietary changes don't need to be stressful or dramatic. We hope this pregnancy nutrition guide is a helpful resource as you learn to build a plate that helps your sweet baby thrive.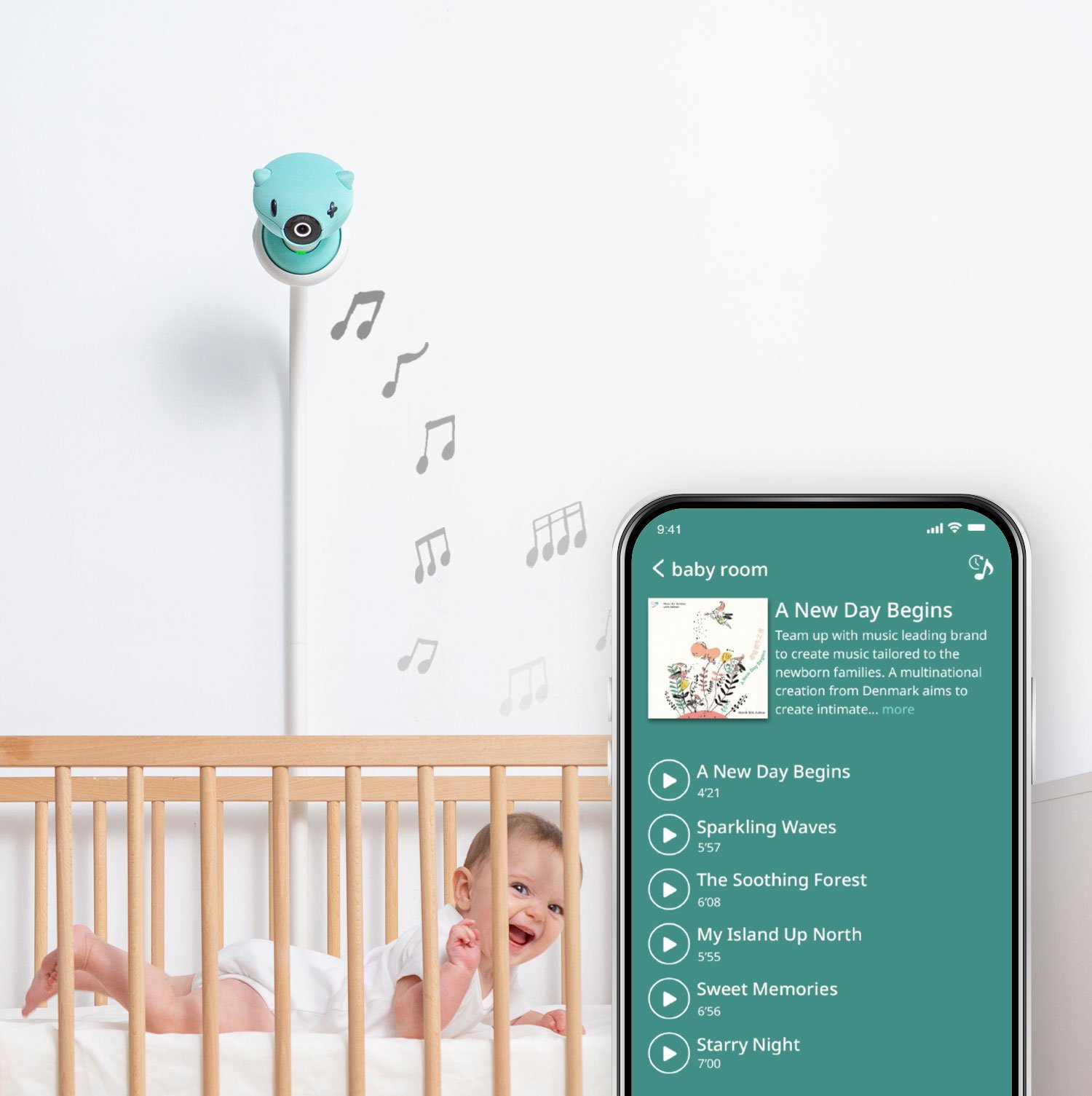 Once your little one arrives, the fun can really begin. The Pixsee smart baby monitor helps new moms navigate changes in their daily routine using playful tools like the Pixsee music box.
Visit our Amazon online store and Pixsee Shop to learn how Pixsee can make life with your little one into a joyful experience from day one.