The safest place for your sweet baby to sleep is curled up tightly in your tummy! The second safest place is, naturally, your comforting arms, snuggled up against your heart. Your own bedroom is a close third, especially if you're still waking up for feeding and soothing each night.
We know that you want to keep your baby close for as long as possible! Even so, every little one transitions out of mom and dad's bedroom eventually. Do you know when to move baby to their own room?
At Pixsee, we believe that our first-class technologies can help provide peace of mind during this big, important transition. With a smart baby camera, there will be no distance between you and your precious baby. Even so, it's important to make the big move when you feel comfortable and prepared.
Ultimately, there is no single right answer for when to move baby into their own room. There are, however, a few general guidelines and recommendations that can help make the decision easier. We've created this guide to the pros and cons of making the move during each stage of your baby's first year.
Keep reading to learn the ins and outs of getting your baby ready for their first night in their very own room.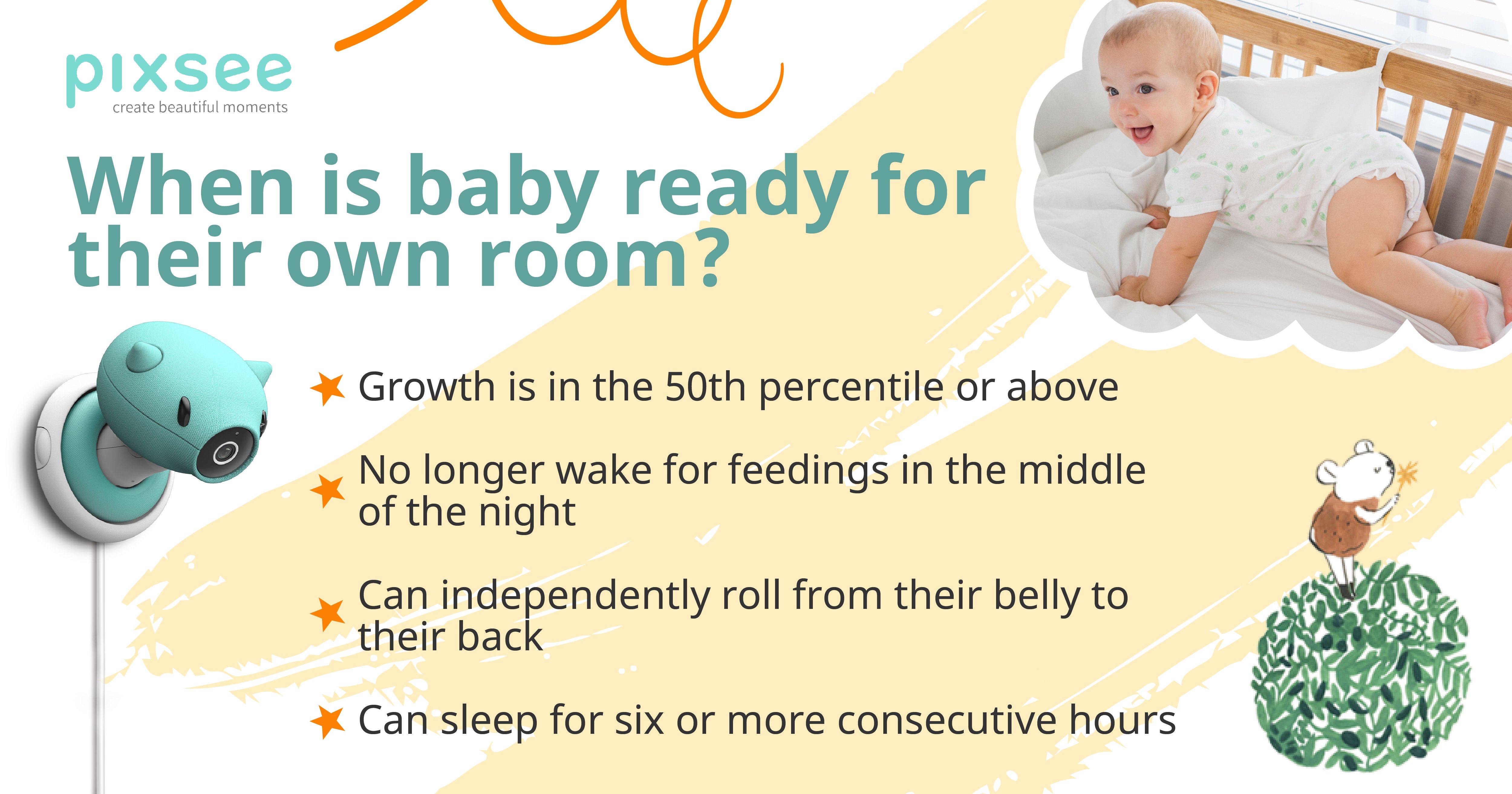 Making the Move at 4 Months
Four months is a bit on the early side when it comes to helping babies transition to their own space, but it's the right time for some families. Before you start packing that tiny suitcase full of rattles and binkies, you'll want to check in with your pediatrician. They can let you know if your baby has met the milestones that will make the transition a safe one.
Typically, a baby under six months might be ready for their own room if:
Their growth is in the 50th percentile or above
They no longer wake for feedings in the middle of the night
They can independently roll from their belly to their back
They can sleep for a period of six or more consecutive hours
One of the benefits of moving your baby before they reach six months of age is that they will be less aware of their surroundings. Object permanence tends to develop around eight months of age. A younger baby is less likely to feel anxious about separating or slumbering in a new space.
Even if your little one has met all of the milestones, you still should aim to sleep nearby. Incorporate your Pixsee smart baby monitor into your baby sleep routine and you'll always have an extra set of eyes!
Making the Move at 6 Months
At six months, many babies become more alert, and they may notice and react if they find themselves in a new place unexpectedly. They will probably cry out to let you know that they have noticed the change of scenery. This dawning awareness is a lot of fun during waking hours, but it does mean the transition is hardest (and loudest!) between six and twelve months.
Even so, a lot of the features in the Pixsee smart app can help fussy babies settle serenely into their new space. The following features can be helpful for parents who are ready to transition their baby before their first birthday:
The Smart music box, including curated parenting music
The calming voice recorder feature
The selection of white noise for sleep training
You will also want to make sure that you outfit your baby's crib with a firm mattress and fitted sheet. Always keep it free of blankets, toys, or bumpers. Many parents find that blackout window shades are helpful, too.
Use the tools at your disposal and stick to a structured sleep routine. There may be some challenging nights, but don't give up! That full night's sleep is right around the corner.
Making the Move at 12 Months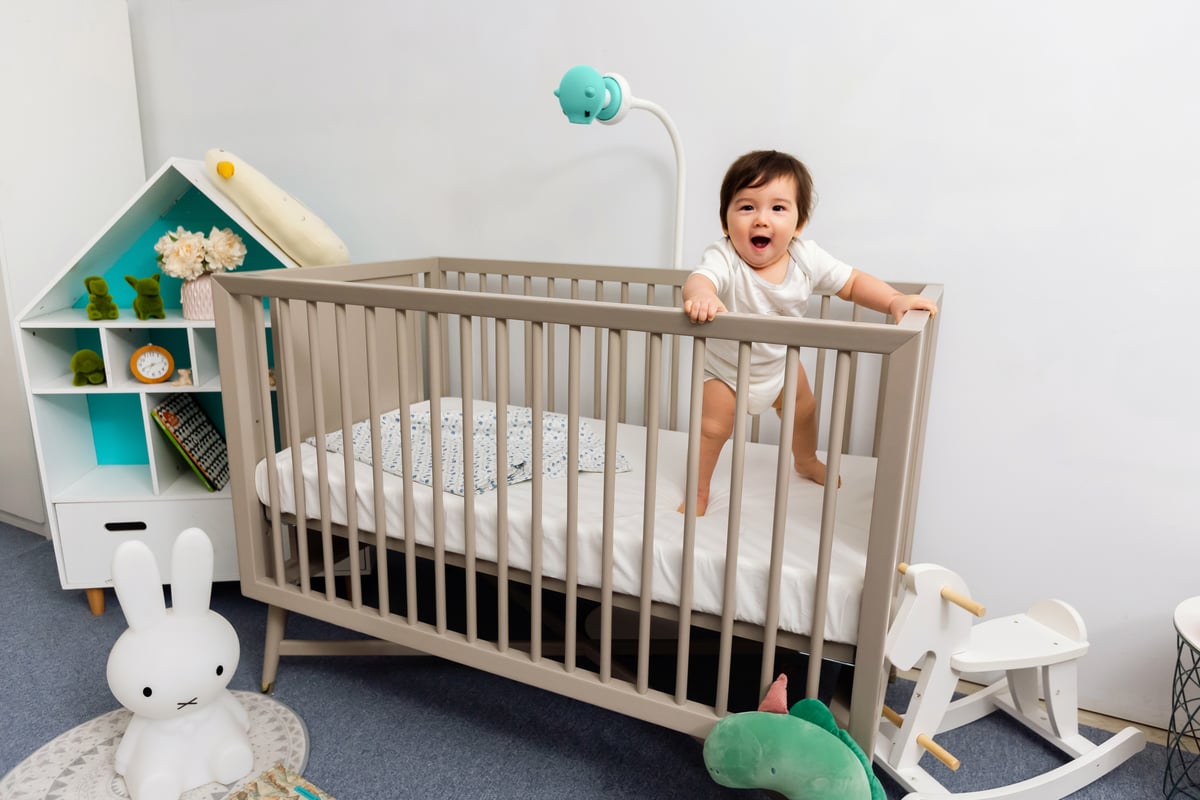 If at all possible, pediatric professionals recommend that you wait until one year of age to move your baby into their own room. This is due to the prevalence of sudden infant death syndrome, sometimes shortened to SIDS. The great news is that SIDS-related deaths have decreased by more than 50% since the back-to-sleep movement began in the late 90s.
If you're concerned about when to move baby to their own room because of SIDS, it's important to know that 90% of deaths occur when a baby is less than six months old. In essence, the older the baby, the safer they will be in their own room. The twelve-month mark is the gold standard for making this big transition.
One year might seem like a long time to share a room with your little one, but pediatricians say there are wonderful benefits! You'll be able to bond with your baby on a deeper level. Babies who sleep with a parent for a year are secure, confident, and safe.
So, when should baby move to their own room? The only correct answer is "when you feel safe." Your Pixsee smart baby monitor can provide the peace of mind you need to transition away from co-sleeping with your baby.
After all, a Pixsee smart baby monitor is a perfect companion for your sleeping little one, providing crystal clear video even in complete darkness. Everyone will sleep easier with features like covered face detection, 24-hour live stream technology, and cry detection. You'll be able to check in on your sweet baby at the first sign of fuss, even from another room - or another location entirely.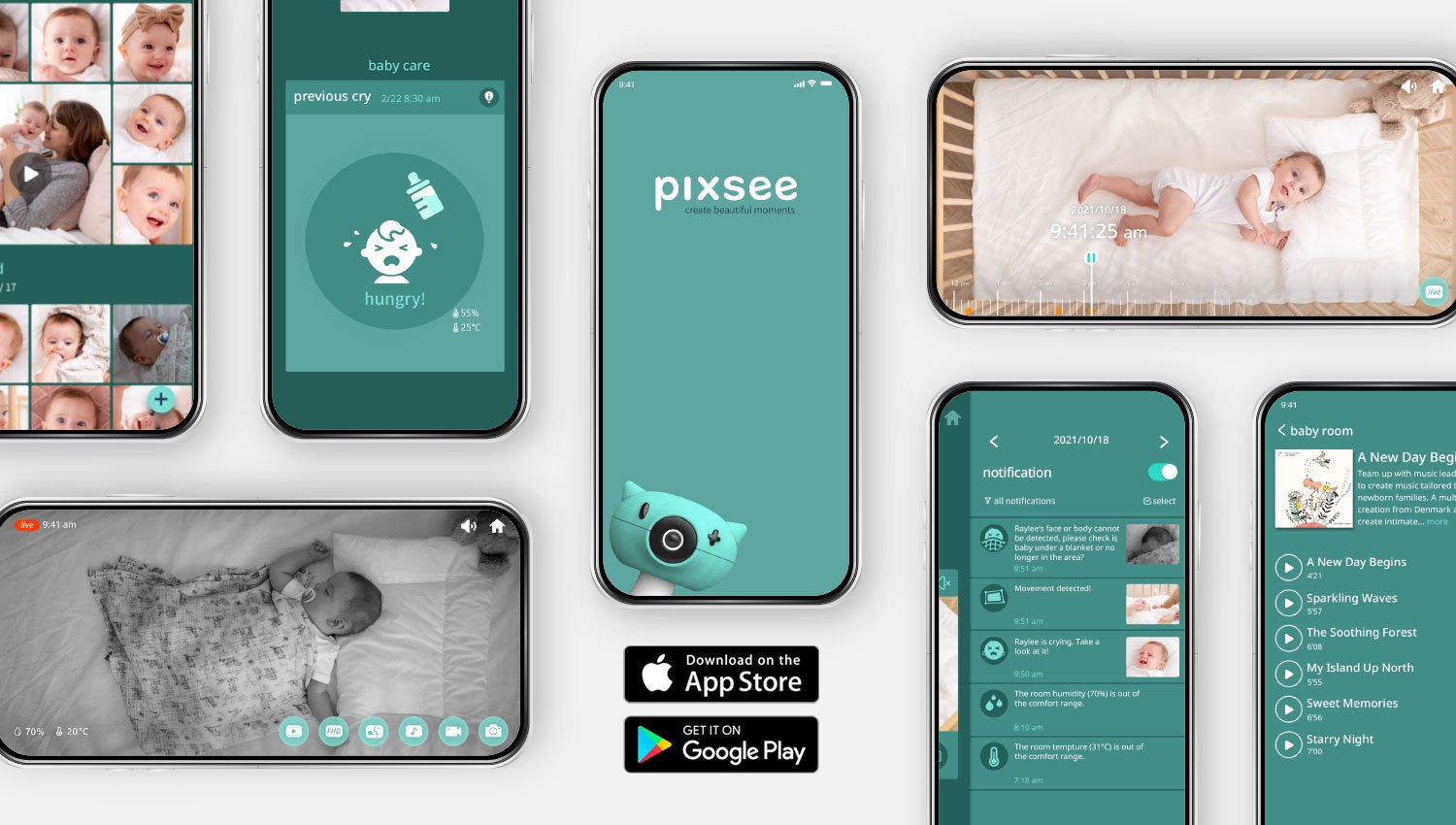 Experienced parents: let us know when did you move baby to their own room?
You Will Know When to Move Baby to Their Own Room
Parenting your sweet baby is a personal journey, and your job is to make the safest, best-informed decisions possible. We're confident that you'll know exactly when to move baby to their own room. Your Pixsee smart baby monitor will be at your side, so you'll never be too far from your sleeping baby during the process.
Your Pixsee smart baby monitor makes it much easier for the whole family to settle down.
Visit our Amazon online store and Pixsee Shop to learn more about parenting with Pixsee smart and you'll be on your way to pleasant dreams!