According to the CDC, 112,437 pairs of twins are born in the United States each year. If you've just had a surprising ultrasound, you are definitely not alone! While a double helping of sweet baby snuggles is a delightful surprise, your bonus baby might leave you with more questions than answers.
You know that you'll need two cribs, a double stroller, an extra high chair, and a way to tell your little ones apart, but some purchases are a bit more complicated. How do you choose the best baby monitor for twins? Do you need two?
Our pixsee smart video baby monitor has served as the perfect companion for many twins' incredible growth journeys! We've learned a few things about what parents need to feel safe when they have their hands full with multiples. This brief guide will answer all of your questions about how to pick out superlative baby monitors for twins.
Keep reading to learn the pros of cons of different types of baby monitors and how they can do double-duty in a pinch.
Do You Need Two Baby Monitors for Twins?
There are few tasks more fun than designing a double nursery. If you're planning on keeping both of your new deliveries in the same room, you can definitely get away with using one high-quality home baby monitor.
It's very common for new parents to get nervous when one twin needs attention. A blowout diaper or crying jag might demand all of your attention. How do you ensure that your other baby stays safe and comfortable?
A video baby monitor can keep an extra eye on your second twin while your attention is on the first one. You don't need to be watching the monitor like a hawk, either. A smart baby monitor from pixsee works with an award-winning app to send you notifications any time something seems amiss.
The right monitor can even make everyday tasks simpler for twin parents. Diaper changes and feedings are essential for bonding with a newborn. With pixsee's smart video baby monitor, you can take the time to get to know your sweet babies as individuals.
What Features Should You Look For?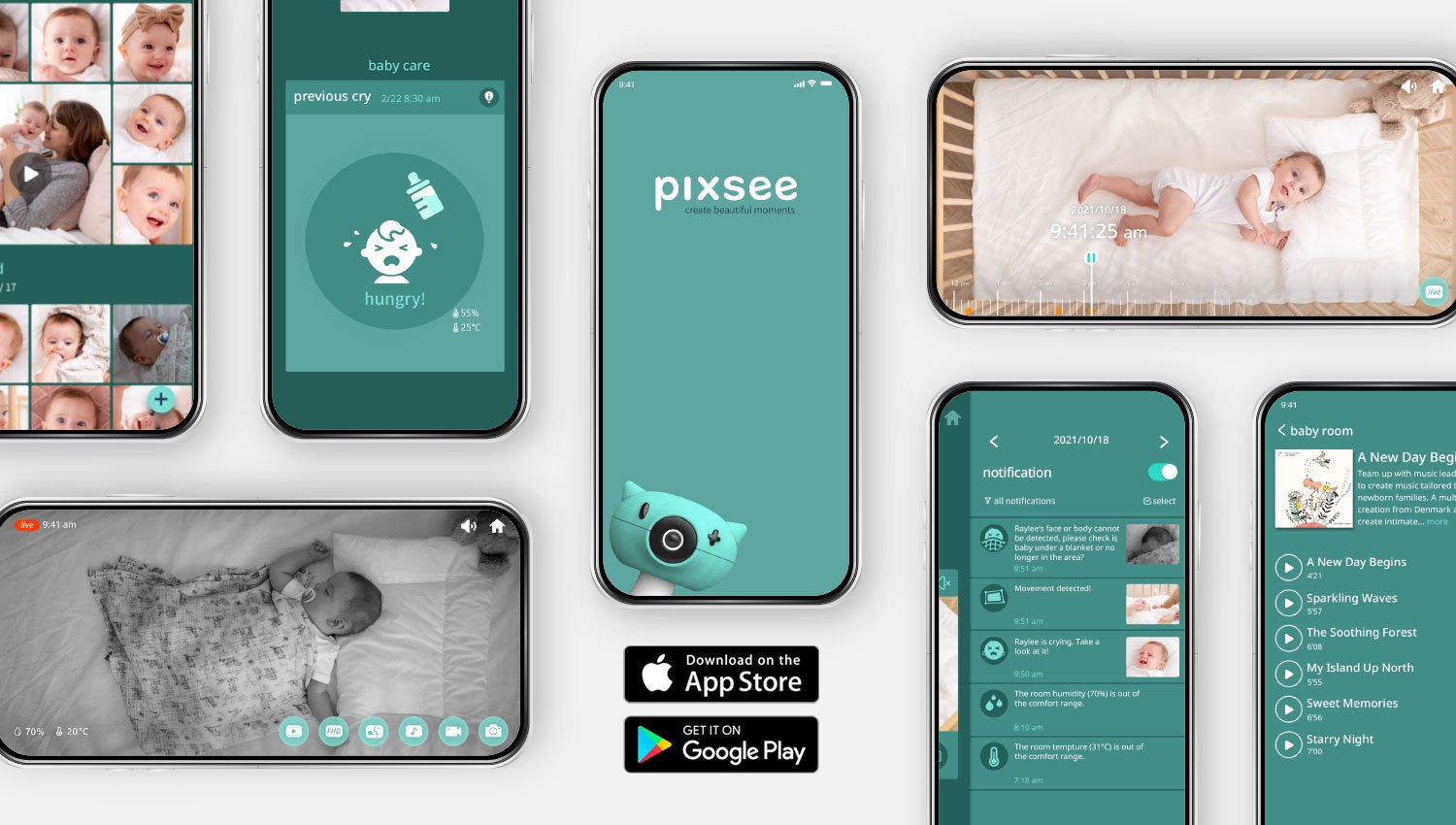 A surprise bonus baby comes with a lot of surprise expenses. When it comes to your babies' safety and privacy, however, you shouldn't cut corners. These are the features that twin parents should look for when they are buying a baby monitor.
Safety Features
The most important thing to look for in a baby monitor are features that offer you peace of mind, day or night. Parenting twins comes with many diversions, and you need to feel confident that your baby monitor does more than passively observe. The best monitors are active participants in your parenting journey.
Some of the safety features that set pixsee apart include:
Covered Face Detection
Cry Detection and Cry Decoder
Temperature and Humidity Detection
Area Detection
FHD 1080p 24-Hour Live Stream
Nighthawk mode
Two-Way Talk
12 to 24-hour Video Playback
When your hands are full with one sweet baby you will never have to worry about the other! You don't even need to be home with your babies to check on them. The pixsee planet smart app allows you to peek in from anywhere.
Memory Making
Many twin parents share this fear: their hands will be busy with one baby, causing them to miss the other baby's first smile, first words, or first steps. With a video baby monitor like the pixsee smart baby camera, you won't ever miss a milestone! The best video monitors can help you capture your baby's growth journey, even if your eyes are elsewhere.
Pixsee's memory-making features include:

5MP Smart Capture
Manual Capture and Record
Collage Album
Themed Frames
Festive Live e-Card for e-card sharing
Baby Bubble Tree for baby growth timelines
Unlike other video baby monitors, pixsee allows you to share digital keepsakes with friends and family. Our video playback features mean you won't miss any firsts. You'll be able to look back on every special moment in crystal clear FHD.
Aesthetic
Sometimes baby monitors are an eyesore, but they don't have to be. Why shouldn't you expose your twins to well-made designs from an early age? pixsee utilizes a sophisticated selection of first-class materials and technologies that result in boutique-level products.
Your pixsee smart video baby monitor has a whimsical and fun aesthetic that's hard to find anywhere else. pixsee fits perfectly in any space to meet your discerning taste and style. It transitions seamlessly from the nursery to the living room without adding bulk or clutter to your home.
Technical Specifications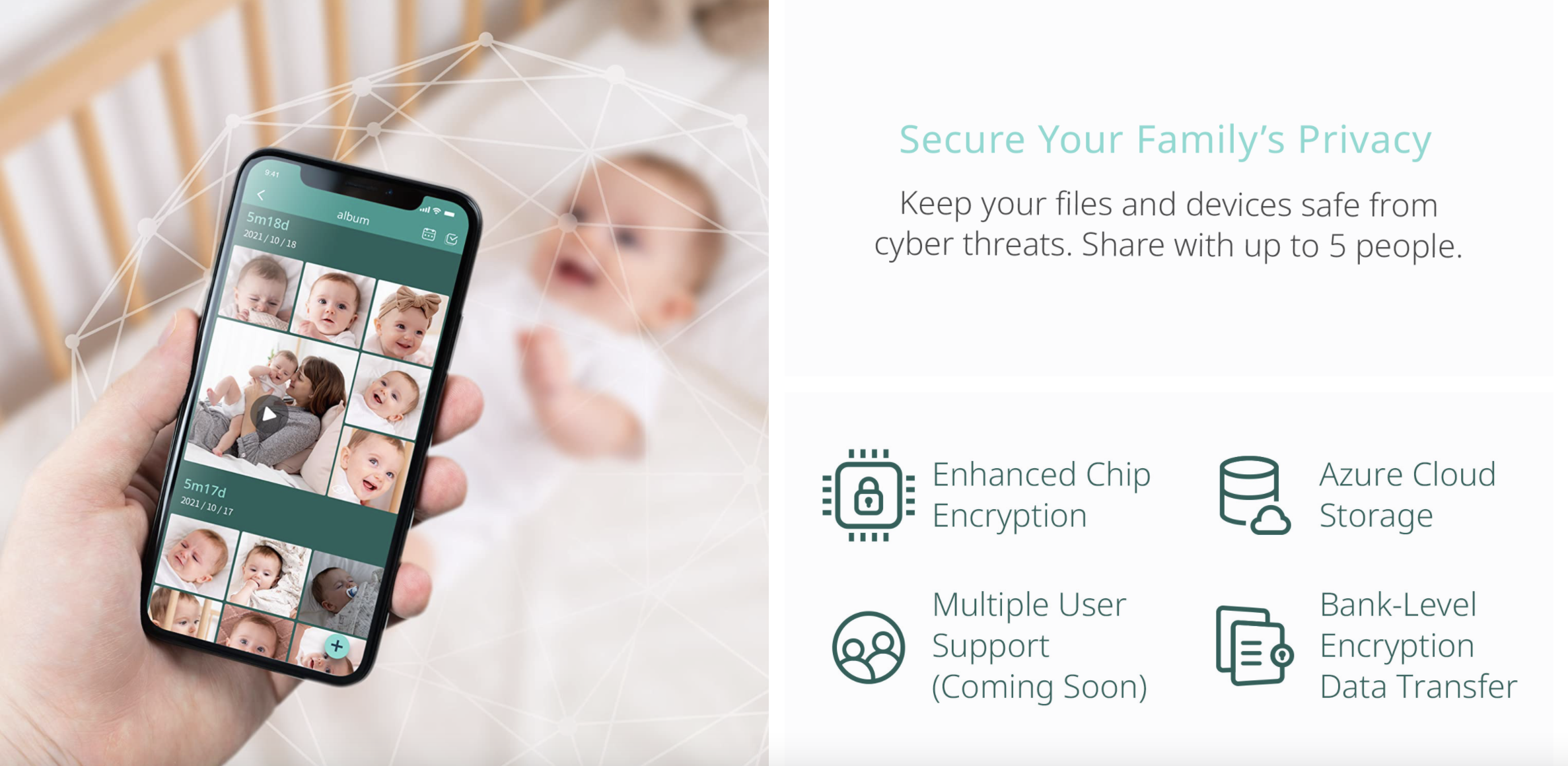 In moments of stress, parents come to rely on their trusted baby monitor. You deserve a monitor that is as reliable and steadfast as you are. You can ensure that your video baby monitor won't miss a moment by choosing a technically sophisticated, carefully engineered product.
The pixsee smart video baby monitor has a reputation for its outstanding manufacturing competency, with an award-winning design. The 5MP camera has an ultra-wide, six-layer optical glass lens with zero distortion.
Top-quality speakers allow for two-way communication, and the focus doesn't need to be on your babies' cries. The pixsee smart baby camera comes with a curated selection of cheerful parenting music and white noise. Music scheduling allows you to execute a hands-free routine for your babies, even when your hands are full.
pixsee: The Best Baby Monitor for Twins
The best baby monitor for twins should be more than a gadget—it should be a parenting companion that serves as an extra set of ears and eyes. You can't go wrong with the features and advanced privacy protection that place your pixsee smart video baby monitor at the top of its class. We hope that our pixsee smart baby camera will calm your mind and your nerves as you get to know your precious babies.
Are you eager to have a parenting time machine? It's not too late to see for yourself why twin parents love pixsee. Visit our online store today and you won't miss a thing.